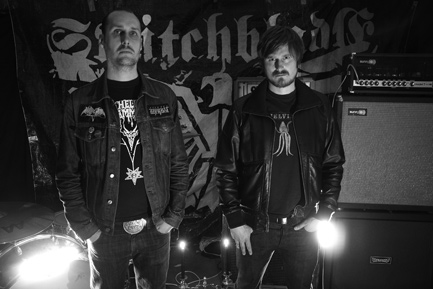 Tim Bertilsson - drums, Johan Folkesson - guitar / amps




Live performances















Releases




SWITCHBLADE - "S/T [2009]" CD (TNO033)

SWITCHBLADE - "S/T [2006]" CD/LP (TRUSTNO29)

SWITCHBLADE - "S/T TOUR" 7" [2004] (TRUSTNO26)

SWITCHBLADE - "S/T [2003]" CD/LP (TRUSTNO21)

SWITCHBLADE - "S/T [2001]" CD/LP (TRUSTNO17)

SWITCHBLADE - "S/T" (Vinyl Only Tracks Compilation) [2001] CD (FLOWER23)

SWITCHBLADE - "S/T [2000]" CD/LP (TRUSTNO13)

SWITCHBLADE / CULT OF LUNA - Split [1999] 7" (TRUSTNO12)

SWITCHBLADE / The Jam Session - Split [1999] 7" (INSECT5)

SWITCHBLADE - "S/T" [1999] 10" (TRUSTNO10)

SWITCHBLADE / LAST MATCH - Split [1998] 7

SWITCHBLADE - "S/T" [1998] 7" (TRUSTNO5)
Biography
2010
The phoenix has risen once again in a new shape and form. This time as a two-headed beast.
In early 2010 Switchblade saw the departure of Anders Sten (bass/vocals) who was with the band from the very start and who was a co-founder of the band. Ways were parted on very good terms.
Switchblade have decided to go on as a duo with occasional guests for vocals and organ/keys. So some shows will be performed as an instrumental duo and some shows with vocals.
So the basic set-up will be: 1 drumkit, 1 guitar, 2 guitar amps and 1 bass amp.
-------------------------------------------------------------

1997-2009
In the cold winter of 1997 turning to 1998, Switchblade slowly took form as a quartet with 2 bassplayers who both screamed their lungs out. A 7" and a few extra songs for a split 7" were recorded with Fireside mastermind Pelle Gunnerfelt (Fireside, Hives, Breach) in the spring of 1998.

In March 1999 Switchblade recorded their groundbreaking and very well received 10". This time with a newly recruited 2:nd bassplayer/singer. The 10" was recorded by Breach mastermind Anders Ekstrom. The 10" turned out very chaotic and fast in tempo. A few months later a few more songs were recorded by Anders Ekstrom and those songs ended up as the split 7" with Cult of Luna and The Jam Session. Then in late 1999 Switchblade took the decision to go on as a three-piece.

During 2000 and 2001, switchblade recorded 2 albums together once again with Breach Anders Ekstrom turning the knobs. Switchblade toured both Sweden (with Cult of Luna) and Europe (twice) in support of the albums.

Then in March 2003, Switchblade recorded their third selftitled full length album. The album was a 6 song, 47 minute sonic journey that ranged from subtle ambient soundscapes to monotonous, dark, instrumental passages to full on stoner flirting, yet epic heaviness. All with just sparse use of vocals. Previously having had some problems in truly capturing their sound and dynamics on tape, Switchblade turned to Carl Wikman at EAR Studios who is known for his big and true to nature sounding recordings. The album turned out to be the most powerful and focused material so far, and showcased a huge leap forward in the never ending evolution of Switchblade's sound and songwriting. The album received great reviews both in Europe and in the US, where the album was released by Jake Banon's (CONVERGE) Deathwish/Icarus imprint. A 4 week European tour in support of the album took place in early 2004 and a shorter tour took place in the summer of 2004 based around an apperance at the legendary Ieper Festival in Belgium.

In May 2004 Switchblade wanted to try out some new song ideas and approaches so they packed the gear and headed down to the Mission Hall studio located in the countryside in the south of Sweden. The weekend worth of recording together with Mattias Olden from LOGH resulted in a 2 track 7" with guestvocals and guitar, on one of the songs, by Mathias Friberg of LOGH. The 2 songs showed, by far, the most dynamic Switchblade material to that date.

Come late summer of 2005, Switchblade packed up their gear and headed down to Mission Hall Studio once again. Having felt so relaxed and enjoyed working with Mathias Olden, the choice was easy when picking a studio for the recording of the fourth selftitled Switchblade album. The 43+ minutes album consists of 2 long tracks and sees the band more dynamic than ever before. Insted of a constant wall of sound and riffing, every riff and every tone get alot of space and time to breathe. To add further bleakness, beauty and depth to the album there is guestvocals by E of swedish blackmetal band WATAIN and once again, guestvocals and guitar by Mattias Friberg of LOGH.

More than three years after the release of the s/t [2006] album, Switchblade entered the fantastic GRONDAL STUDIO (The Hives, Breach, Fireside, etc, etc) with knob-twister extra ordinaire KARL DANIEL LIDEN (VAKA, Dozer). The basic live tracking was done in 3 days and the band literally lived in the studio and worked very long days. Then it was time for guitar dubs and vocals over at the smaller/less expensive VERSION STUDIO. Almost 3 days was spent there as well. Then it was back to GRöNDAL for a few hours for some piano and Hammond organ recording. The album was mixed at KARL DANIEL LIDEN'S own TRI-LAMB STUDIOS. The album was mastered at TONTEKNIK by MAGNUS LINDBERG (CULT OF LUNA). The 49 minute long composition, divided in 3 parts, is a sonic and esoteric journey of monumental proportions.

Shows
If you want to book Switchblade, please get in touch with Tim@Switchblade.se

Future:
11-09-09 Nottingham (GB) @ Chameleon Arts Centre w/ Pombagira
11-09-10 Birmingham (GB) @ Wagon And Horses w/ Pombagira
11-09-11 London (GB) @ The Purple Turtle w/ Pombagira
10-09-29 Stockholm (S) @ KafŽ 44 w/ Pombagira (TBC)
10-09-30 Gšteborg (S) @ Truckstop Alaska w/ Pombagira

Past:
11-04-02 Gšteborg @ Truckstop Alaska w/ Stench, Deathhammer, Satanarchy, Nominon

10-10-22 Turku (Fin) @ Amplifier Worship
10-10-11 Hamburg (D) @ Hafenklang w/ Eagle Twin
10-10-10 Utrecht (NL) @ UtrechtDOOM w/ Eagle Twin etc.
10-10-09 Essen (D) @ Denovali Swingfest
10-10-08 Braunschweig (D) @ Nexus w/ East Of The Wall
10-09-18 Tilburg (NL) @ Incubate Festival
10-09-14 Stockholm @ Kafe 44 w/ Switch Opens

09-09-09 Hamburg (D) @ Hafenklang w/ Kongh
09-09-08 Aachen (D) @ AZ w/ Kongh, Kodiak
09-09-07 Solingen (D) @ Waldmeister w/ Kongh, Kodiak
09-09-06 Leeuwarden (NL) @ Podium Romein, Ashes To Ashes w/ Kongh, Urfaust, Shining, Saturnalia Temple
09-09-05 Ghent (B) @ Frontline w/ Kongh
09-09-04 Amsterdam (NL) @ Winston w/ Kongh
09-04-08 Stockholm (S) @ Debaser w/ Unearthly Trance, Ramasess
08-09-09 Malmš (S) @ Utkanten w/ Kongh, A Storm of Light
08-09-08 Bielefeld (D) @ AJZ w/ Kongh
08-09-07 Tilburg (NL) @ 013, Ashes To Ashes, Doom To Dust III w/ Kongh, My Dying Bride, Krux
08-09-06 Aalst (B) @ Negasonic w/ Kongh, Sardonis
08-09-05 Nurnberg (D) @ Kunstverein w/ Kongh, Bunkur
08-09-04 Berlin (D) @ Cassiopeia w/ Kongh
08-09-03 Copenhagen (DK) @ Lades w/ Kongh
07-12-14 Oslo (N) @ Garage w/ Kongh
07-12-13 Gothenburg @ Underjorden w/ Kongh, I Date A Wolf
07-12-12 Malmo @ Debaser w/ Kongh
07-12-11 Stockholm @ Kafe 44 w/ Kongh
07-08-13 Oslo (N) @ Garage w/ Koldbrann, Kaospilot
07-03-01 Stockholm @ Debaser w/ Cult Of Luna
06-08-27 Frankfurt (D) @ Exzess w/ Officer Jones
06-08-26 VLAMROCK Festival, Belgium
06-08-25 IEPER FESTIVAL, Belgium
06-08-24 Paris (F) @ Le Batofar w/ Amen Ra, Time To Burn
06-02-25 Linkoping @ The Rock w/ Watain
06-02-23 Stockholm @ Kafe 44 (Releaseshow w/ guests)
05-05-11 Lund @ Mejeriet w/ Isis, Jesu
05-03-19 Saarlouis (D) @ Jugendzentrum w/ Sunn 0)), Boris
05-02-12 Norrkoping @ Fest I Valen w/ Dungen etc.
05-01-28 Sandviken @ Kungen w/ Breather, Resist, Victims, S.M.E.
05-01-27 Stockholm @ Kafe 44 w/ Breather Resist, Set My Path, Rentokiller
04-08-30 Helsingor (DK) @ Elverket w/ Menfolk, Jim Fear
04-08-29 Ieper @ Ieper Fest
04-08-28 Saarbrucken @ Schiff Stadt Saarbrucken w/ Marr
04-08-27 Koln (D) @ ??? w/ ???
04-08-24 Stockholm @ Debaser w/ Mono
04-07-31 Stockholm @ Blow Up A Panda
04-02-24 Stockholm @ Kafe 44 w/ Logh
04-02-07 Berlin (D) @ Kastanie w/ Roenne
04-02-06 Altenburg (D) @ Rote Flora w/ Zann, Men in search of the perfect weapon
04-02-05 Wurzburg (D) @ Immerhin w/ This is a call to arms
04-02-03 Prag (CZ) @ Pancor Rock Club w/ Anyway
04-02-01 Wien (AUT) @ B.A.C.H. w/ Bug, Fresnel
04-01-31 Munchen (D) @ Kafe Kult w/ John Deere
04-01-30 Stuttgart (D) @ Juze Degerloch
04-01-29 Basel (CH) @ Hirscheneck w/ Anthrazitfötzel
04-01-28 Freiburg (D) @ KTS w/ ???
04-01-27 Nancy (F) @ Les Brasseurs w/ The Better Thought To Come
04-01-26 Hasselt (B) @ Muziek-O-Droom w/ Converge, TroubleLovesUs
04-01-25 Blieskastel (D) @ P-Werk w/ Llynch
04-01-24 Kortrijk (B) @ Textielhuis w/ Amen Ra, Wolves, Transistor Transistor
04-01-23 Athus (B) @ Le Marignan w/ Short Supply
04-01-22 Karlsruhe (D) @ Erbeersmund w/ The Unfinished Sympathy
04-01-21 Frankfurt (D) @ Clubkeller
04-01-20 Bonn (D) @ Bla w/ Creutzfeldt
04-01-18 Oldenburg (D) @ Alhambra w/ ???
04-01-17 Braunschweig (D) @ Cafe Nexus w/ Wolves, Transistor Transistor
04-01-16 Dresden (D) @ Scheune
04-01-15 Magdeburg (D) @ Mikrikosmos w/ Five Finger Discount
03-11-26 Uppsala @ Ungdomens Hus w/ Cult of Luna, QGMR
03-11-25 Stockholm @ Debaser w/ Cult of Luna
03-11-06 Linkoping @ Club Toxic w/ Nasum
03-10-24 Lund @ Mejeriet w/ Logh
03-10-23 Gothenburg @ Rio Rio w/ Logh
03-09-13 Stockholm @ Kafe 44 w/ Nine, The price of Ink
03-06-07 Vastervik @ Oasen w/ The Price of Ink
03-06-06 Fredricia (DK) @ Ungdomshuset w/ The Price of Ink
03-04-25 Stockholm @ Kulturhuset w/ Kid 606, Dwayne Sodahberk
03-03-19 Stockholm @ Debaser w/ Isis, 27
02-09-14 Stockholm @ Distro Grande, Kulturhuset w/ PG 99, Trapdoor Fucking Exit
02-08-03 Stockholm @ Blow up a panda Festival w/ Soviac, Trapdoor Fucking Exit
02-07-06 Oskarshamn @ Parkfestivalen w/ Nine, Between Us, Logh, Haunted
02-05-25 Fredricia (DK) @ Ungdomens Hus w/ Excem
02-05-23 Groningen (NL) @ Vera w/ Keelhaul, Knut
02-05-22 Amsterdam (NL) @ Occi
02-05-21 Bruessel (B) @ Bunker w/ Seven Days of Samsara
02-05-20 Mannheim (D) @ Mannheim Festival, Juz w/ Keelhaul, Knut, Llynch, Newborn, Heaven Shall Burn
02-05-18 Munchen (D) @ Kafe Kult w/ Seven Days of Samsara
02-05-17 Leipzeig (D) @ Zoro w/ The Black Hand, Potomac
02-05-16 Magdeburg (D) @ Heizhaus w/ The Black Hand, Potomac
02-05-15 Dresden (D) @ Az Conni w/ The Black Hand, Potomac
02-04-22 Stockholm @ Kafe 44 w/ Dead And Gone, Second Thought, Brood
01-12-14 Gothenburg @ Estniska Fšreningen w/ Brisco, Set My Path
01-10-27 Stockholm @ Kafe 44 w/ The Price of Ink, Pharadox
01-10-10 Umea @ Hamnmagazinet w/ Tragedy, Harum Scarum
01-09-29 Vastervik @ ? w/ Your Halo Is A Radar, Trapdoor Fucking Exit, Bruce Banner, Kaospilot
01-09-28 Norrkoping @ Kulturkammaren w/ Trapdoor Fucking Exit, Kaospilot
01-08-30 Stockholm @ Kafe 44 w/ The Locust, The Oath, JR Ewing, Bruce Banner
01-08-04 Stockholm @ Blow Up A Panda w/ Your Halo Is A Radar, Kevlar, Price of Ink, Brisco
01-05-09 Stockholm @ Tantogården w/ Bluetip
01-04-12 Vasteras @ VŠxhuset w/ Cult of Luna, Seven Feet Four
01-04-11 Gislaved @ Gamla Z w/ Cult of Luna
01-04-10 Malmo @ Panora w/ Cult of Luna, Lvmen
01-04-09 Gothenuorg @ Oceanen w/ Cult of Luna
01-04-08 Sandviken @ Kungen w/ Cult of Luna
01-04-07 Stockholm @ Kafe 44 w/ Cult of Luna
01-03-26 Stockholm @ Kafe 44 w/ Song of Zarathustra, 7feet4
00-11-24 Oskarshamn @ Vinter rocken - Dillinger Escape Plan, Botch, Shora, Entombed, Bombshell Rocks, Granada
00-11-17 Umea @ Punkfesten, Hamnmagazinet w/ The Jam Sesssion, Skeletor, Brisco, 7Feet4, Asterisk
00-11-05 Stockholm @ Lava, Distro w/ Mikael Stavostrand, Junip, Naimi
00-09-16 Linkoping @ Skylten w/ Section 8, The Get up and Goers, F.I.L., Flying Phantoms
00-08-18 MAGDEBURG (D) @ Winterhafen 2 w/ Brazen, Winston
00-08-17 BERLIN (D) @ Kastanie w/ Brazen, Winston
00-08-16 DRESDEN (D) @ Az Conni w/ Brazen, Winston
00-08-15 MONHEIM (D) @ Sojus 7 w/ Brazen, Winston
00-08-14 MANNHEIM (D) @ Juz w/ Brazen, Winston
00-08-13 ANTWERPEN (B) @ Scheldapensquat w/ Brazen, Winston
00-08-12 HOMBURG (D) @ Ajz w/ Prone, Brazen, Winston
00-08-11 Bullay (D) @ Jugendraum w/ Prone, Driven
00-08-10 Trier (D) @ Ex-Haus w/ Prone, Daysixwasthefailure, Flaming Homer
00-08-09 Luxembourg (LUX) (Wiemerskirchen) @ Am Duerf w/ Prone, Desiderata
00-08-08 Leipzig (D) @ Zoro w/ Prone, 4 Sivits
00-08-06 Gottingen (D) w/ Prone, JR Ewing
00-08-05 AMSTERDAM (NL) @ Kalenderpanen w/ Prone
00-08-04 DUISBURG (D) @ Fabrik w/ JR Ewing
00-08-03 Malmš @ Panora w/ Down to fail
00-08-01 Stockholm @ Kafe 44 w/ Stratford Mercenaries, Bar Feeders, Spider Cunts
00-04-28 Tystberga @ The quest for Quiet mountain Festival w/ Nasum, Trapdoor (fucking) Exit, Daybreak,The Jam Session, D.S.-13, Nine, Dead End, Kevlar, Section 8, Get up and Go'ers, Birdflesh, Brisco
00-04-11 Stockholm @ Kafe 44 w/ Locust
00-02-26 Linkoping @ LKPG HC Fest, Skylten w/ Daybreak, Between us
99-12-12 Stockholm @ Tantogarden w/ Breach, Daybreak
99-11-30 Stockholm @ Kafe 44 w/ Botch
99-09-03 Motala @ Ungdomenshus w/ Roswell, Kids in Embryo, Section 8, Rampage
99-09-02 Gislaved @ Folkets hus w/ Skullmonkeys, Super Dice
99-09-01 Copenhagen (DK) @ Ungdomshuset w/ Lack, Amdi Pedersens Arme
99-08-31 Malmo @ Panora w/ Intensity, Amdi Pedersen's Arme
99-08-29 Trollhättan @ Pumphuset w/ Splitwrist
99-08-28 Porsgrunn (N) @ Gamle posten w/ JR Ewing, Rage from within
99-08-27 Sarpsborg (N) @ Nighthawks MC w/ Smorgasbord, Seraphim
99-07-30 SŠljeryd @ Säljeryd 99 Festival w/ DS-13, Jam Session,Separation, Section 8, Co-Op, Los Muertos, Acursed, Get up and Goers
99-06-12 Stockholm @ Vita Huset w/ Asshole parade, End of the century party, Good clean fun, Co-op and Burning kitchen
99-05-23 Stockholm @ Medborgarhuset w/ 8 Days of nothing, Co-op, Scumbrigade, Daybreak, Backside LKPG, Legion of Dyslectics, Sons of Cyrus, DS-13, Fetmule
99-04-03 Gothenburg @ Rosa Rummet w/ Burst and Jaded
99-04-02 Torup @ Byggdegården w/ 8 days of nothing, Section 8, Jaded, Two Thirds, Burning Flames, Plastic Pride, Carnated
99-03-02 Stockholm @ Kafe 44 w/ B r e a c h
99-02-20 Sundsvall @ Pipeline w/ The Hives,The (International) Noise Conspiracy, Greed, Separation,DS13, Comatose, Tolchock, Diefenbaker
99-02-13 Linköping @ Skylten w/ Jam Session, Skitsystem, Section 8, Intensity, Wolfpack, Excticion of Mankind, Bomshell Rocks, Roswell, Sportswear, Floorpunch, Amulet
99-01-30 Stockholm @ Kafe 44 w/ Between us, End in sight, Second Thought, Soapbox
98-11-14 UmeΠ@ Punkfesten w/ D.S.13, Last Match, Arsedestroyer, Aztec 2 step, Separation, Hives, Intensity, Burning Kitchen, Randy, Plastic Pride
98-10-10 Stockholm @ Lava w/ The Hives, Hardcore Superstar
98-09-27 Mjšlby @ Telegrafen w/ Last Match, Jam Session
98-09-26 Gothenburg @ Rosa Rummet w/ Last Match, 8 days of nothing, JR Ewing, Sweet Little Sinister
98-08-25 Stockholm @ Kafe 44 w/ Scumbrigade, Jaded
98-07-23 Stockholm @ M/S Stubnitz (a german boat) w/ Burning Kitchen
98-05-16 Uppsala @ Genomfarten w/ Last Match, The Ghoulies
98-05-13 Stockholm @ Kafe 44 w/ Ink and Dagger
98-05-09 Stockholm @ Scen Maria